... oh hang on - the airline that had that slogan doesn't exist any more ... but the one I flew up here to Queensland on does.
I had to get up before sunrise to catch my early morning flight from Canberra (where I live) ...
yes ... this is me I am talking about and I did mention sunRISE - lol
- usually I see (and take lots of photos of ;-) sunSET ... so this is a bit different for me ... my sense of direction got all confused seeing the red glow of the sun behind the top of the hills and told me I was looking West when I was looking East - LOL
It was worth only having (er dare I say it ... yes why not ... Mum never reads my blog anyway - about 2 hours sleep) to get to fly over the clouds and see views like this:
and this:
and this:
and
and
and this:
and these: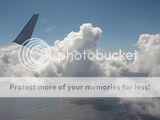 hmmm - the colour of those clouds, and the sea ... is there such a colour as "steely indigo"?
Anyway ... why am I posting to my blog right now ... well ... Mum and Dad live at one of those places that has a community centre with a pool and a bowling green and and a bar/etc and also a library with a computer that is connected to the www (which is where I am right now) ... and tonight is darts night ... but I am not really into darts ... lol ... so I decided to test drive photobucket and upload the 35 pictures I took on the flight up here, and post this blog post - lol
After the darts finish, we go back to Mum and Dads place for an hour or so, then we have to leave to go down to Brisbane airport so Dad can drop Mum and I off to catch our "stupid 0'clock" (as in it leaves just before 3am!) flight to Dubai ... and my blog will probably go very very quiet for a few weeks - lol
(well, apart from this week's ABC Wednesday post that should post itself just after Midnight on Wednesday, because I set it up to do that when I was in here earlier this afternoon while Mum and Dad were at some social club comittee meeting ;-)
ok ... pile of photos are there ... photobucket seems to be a good way to add them actually ... but Darts is almost finished and they will want to lock up ...
Time to go back to Mum and Dad's unit (well it is called a unit but it is bigger than their last house was!), and get ready to fly off on our big adventure ...
... as some kid in the seat behind me said when the plane took off - wheeeee!